100 Suits for 100 Men was founded in 2011 by Mr. Kevin Livingston that wanted to create a program to address the needs of underprivileged men and women in need of business attire in the New York City area.  In 2015, they obtained their 501 (c)(3) non-profit status.  Their core service is to provide free business attire to men and women who are in the job search process. By being able to wear appropriate attire to their interviews, these men and women are better equipped to achieve gainful employment, which will ultimately help them to transition into mainstream society and live more productive lives. Through this program, they also provide free haircuts for men and where needed, wig/salon referrals for women.
The 100 Suits for 100 Men mission is:
"The mission of 100 Suits for 100 Men is to help underprivileged men and women improve their role in society, build dignity and self-esteem, foster self-sufficiency, dispel stereotypes, and promote community involvement in order to build each other up."
This organization has grown to include programs that address more than a suit.  100 Suits addresses socio-economic issues as well as injustice issues with its community involvement and activism,   making positive changes in the lives of men and women in the New York City area.  These solutions help those individuals get to a place of economic freedom help to reduce recidivism rates.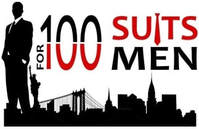 Patty Vargas of the famous Viernes Culturales is PICKING UP SUITS (ONLY SUITS … MEN OR WOMEN) FOR THIS GREAT ORGANIZATION, WHOMEVER WANTS TO CONTRIBUTE CAN LEAVE THEM AT MY OFFICE, LOCATED AT Futurama Art Galleries, 1637 SW 8th St. # 116 Miami, FL 33135
305.643.5500 PLEASE DONATE, THANKS !!!